---
In this ranking, we will present you our top 5 bathroom sconces, carefully selected to guarantee not only the best lighting, but also a touch of style and personality to your space dedicated to hygiene and relaxation.
Why choose sconces to light up the bathroom?
LED bathroom sconces are able to cover both the function of ambient lighting, to obtain uniform and regular light, and that of task lighting in order to guarantee thorough morning or evening skincare without risks.
Murano glass sconces, in addition to surprising for the beauty of their creation, allow you to create magnificent effects and reflections of light on the walls deriving from the purity of the crystal and, at the same time, to furnish the walls while safeguarding the available space.
---
1 –
Valzer quadriedri wall lights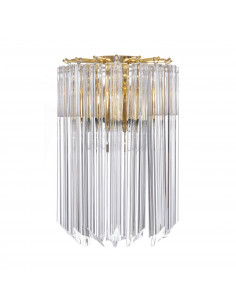 The Valzer wall light is made up of two E12 lamp holders (LED compatible) anchored on a gold or chrome frame and nine precious quadrihedral crystal glasses, customizable in colour. The quadrihedral glasses, thanks to their inclined cut, create splendid luminous reflections while maintaining a luxurious and iconic design. They look perfect when positioned on the sides of the mirror to guarantee accurate skincare.
2 –
Anthurium wall light with crystal leafs
The Anthurium sconce brings the charm of vintage Murano glass design in a modern key. Composed of 3 crystal leaves anchored on a gold or chrome frame, it is ideal for modern luxury bathrooms. It also represents a space-saving lighting solution, illuminating and decorating the walls at the same time.
---
3 –
Tubus modern design wall lamp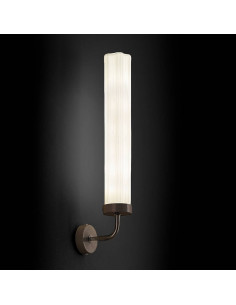 The Tubus wall lamp impresses with its innovative design. The refined metal structure supports a beautiful trunk-shaped layered glass, which thanks to a double process helps to diffuse the light making it soft and pleasant. The glass is available in white, smoked and dove grey, all colors that match perfectly with the latest furnishing trends in modern bathrooms.
---
4 –
Aurora sconce with grit crystal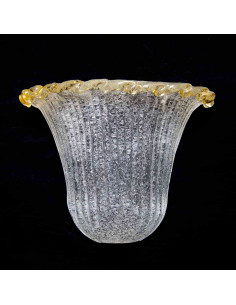 The Aurora line sconce is a classic wall lamp available in crystal only or with a 24K gold edge. The grit glass allows for homogeneous lighting without blinding the sight. For this reason it is often placed on the sides of the mirror to ensure the right brightness for make-up or skincare activities.
---
5 –
Jappelli classic Murano wall light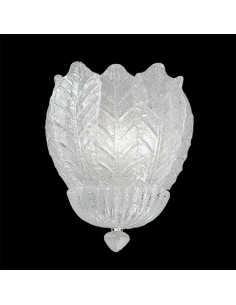 Iconic and timeless design, the Jappelli sconce strikes for the beauty of the grit glass petals whose shape recalls that of a newly bloomed flower. Available in medium and large format, and in crystal or amber. In both versions it has two E12 lamp holders (LED compatible). It is perfect for classic bathrooms characterized by high-class chic interiors.
---
This was a small selection of the best bathroom sconces in our store, to discover all our sconces models click here.
If you want more information and advice on how to illuminate a bathroom to the best of your potential, we invite you to read our article "modern bathroom lighting".
---