---
In this ranking, we will present you our top 5 bathroom ceiling lights, carefully selected to guarantee not only the best lighting, but also a touch of elegance and personality to your space dedicated to hygiene and relaxation.
Why choose a ceiling light to light up the bathroom?
LED bathroom ceiling lights, generally placed in the center of the ceiling, represent an ideal solution in design and size to ensure pleasant general lighting, managing to avoid annoying shadow areas.
Thanks to their reduced height and being without cables or visible supports, Murano glass ceiling lights are very versatile when you want to save space, especially if you don't have a high enough ceiling.
---
1 –
Perla ceiling light in grit crystal
The Perla ceiling light is characterized by regular geometric shapes on the outside, which together with the small grains of grit crystal placed internally, make it capable of diffusing the light in a brilliant and homogeneous way. La Perla has a height of 15 cm and a diameter of 44 cm, two E27 lamp holders (LED compatible) and a total weight of 4 kg. Possibility of customization in the colors light blue, pink, amber and smoke, the matching wall light is also available.
The Rugiada line is a ceiling light in colored Murano glass with the possibility of choosing between light blue, pink, amber, smoked, crystal and gold. It differs from the Perla for its Rigadin striated pattern, typical of the Venetian style. Available in two sizes: medium (diameter 40 cm) and large (diameter 50 cm). It has two E27 LED compatible lamp holders.
---
3 –
Modern colored Murrine ceiling light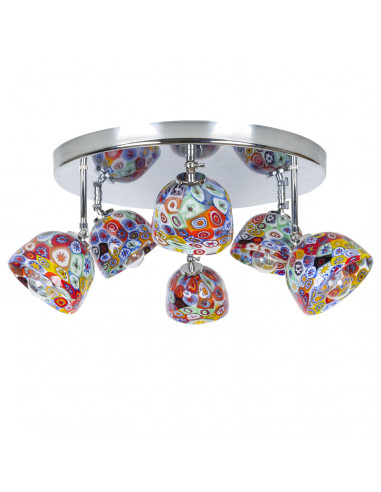 Modern steel ceiling light with splendid murrine, colorful and typical of the Venetian style, handmade which are reflected on the structure available in both chrome and gold. It is perfect for embellishing and giving a touch of color and liveliness to modern bathrooms. Possibility of choosing between the large format: 6 lights, 30 cm height and 40 cm diameter; And the medium one: 2 lights, 30 cm high and 25 cm in diameter.
---
4 –
Amalfi blue and 24k gold ceiling light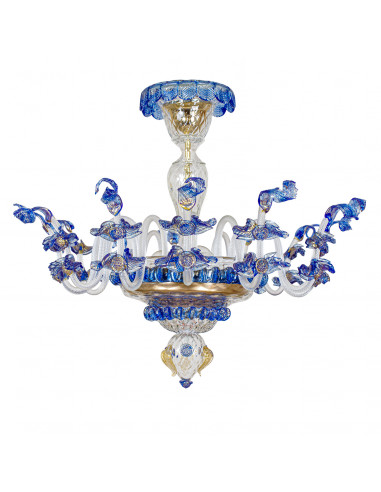 The Amalfi ceiling light is a classic Murano glass ceiling light with an attractive design. The crystal is enriched with 24k gold dust and other minerals to obtain the characteristic intense blue of this ceiling light, decorated with leaves and blackberries. Worked entirely by hand, it finds its best place in luxurious bathrooms where it does not go unnoticed. Available in 9 and 12 leaf formats.
---
5 –
Laminam disc ceiling light in white glass
The Laminam is a white crystal disc ceiling light highlighted by a transparent edge. Laminam strikes for its modern and essential design which makes it suitable for embellishing any modern bathroom. It has a diameter of 40 cm and two LED compatible E27 lamp holders.
---
This was a small selection of the best bathroom ceiling lights from our production, to discover all our ceiling light models click here.
If you want more information and advice on how to illuminate a bathroom to the best of your potential, we invite you to read our article "modern bathroom lighting".
---