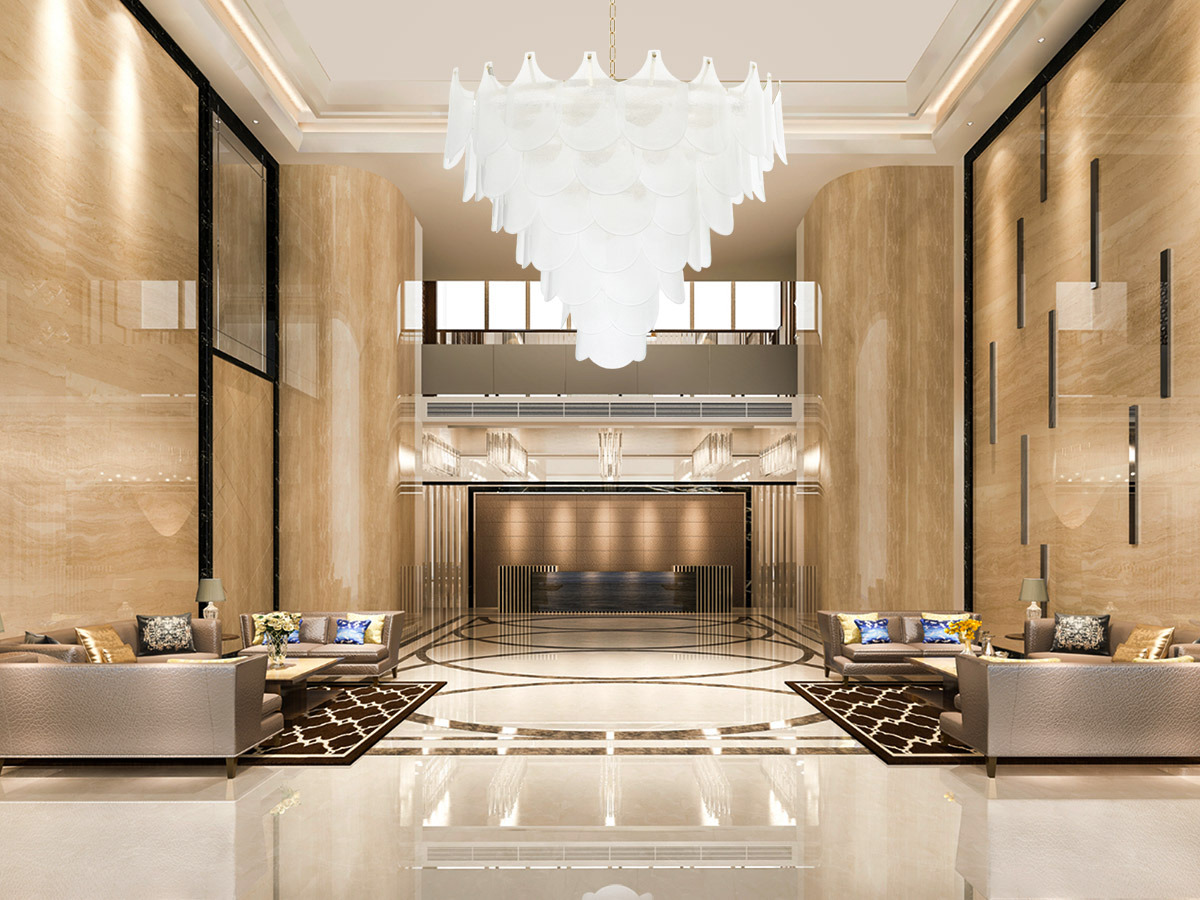 Contract Hotel Lighting
Among the various "contract spaces" (namely spaces open to the public such as hotels, offices, restaurants and bars), hotels stand out for the need for a customized contract lighting system that highlights the spaces and welcomes guests in the best possible way .
Cristalleria Murano® specializes in customized "contract lighting" projects: thanks to decades of experience in the field and collaboration with architecture and interior design studios, the team is able to fulfill any lighting request for sophisticated and refined environments, always respecting the agreed budget.
In addition to the iconic blown glass chandeliers, the Cristalleria Murano® catalog is made up of suspensions, ceiling lights, appliques, floor and table lamps made of high quality Murano glass and with a refined design, able to satisfy even the most demanding tastes.
---
Hotel contract lighting: why is it so important?
Nowadays, a hotel is not just a tourist accommodation facility but represents a place where customers expect to live experiences, thus becoming a fundamental part of planning a vacation, like tourist attractions.
Therefore, creating a refined and elegant environment will allow you to stand out from the competitors and make the experience unique for the customer. Embellishing your hotel with Murano glass lighting is an effective way to make every hotel, classic or modern, iconic and stylish.
State-of-the-art hotels Cutting-edge hotels make available to their customers multiple services (spa, restaurant, bar, gym, coworking, etc.), the structure will have different areas each with its own specific lighting requests, Cristalleria Murano® is able to respond to these specific needs not only related to visibility but above all to the emotions that you want to arouse.
Using the correct lighting will create an extremely hospitable atmosphere, able to make the guest feel at ease, like at home.
The main objective of a lighting project for hotels is to find solutions that can create a welcoming atmosphere in each environment, which are in line with the stylistic concept of the entire structure.
A hotel room is not just a simple room, but a multifunctional environment, a place where you can eat, work and relax, so the lighting system must reflect its multiple uses and ensure correct light levels to satisfy all these functions.
---
6 useful tips for the lighting of a Hotel
Here below are six interesting tips to illuminate a hotel impeccably:
Take care of the hall and reception lighting: let's start with the business card of the Hotel, although it is often considered simply a transit area and nothing more. In reality, it is a very important space as it provides the first impression of the structure: the ideal choice is to focus on important chandeliers able to combine functional brightness and attractive design.
Designing stair and corridor lighting: these passageways connect the different areas of the hotel, as well as hosting the entrances to the various bedrooms. It is important to choose functional lighting solutions to allow guests to reach areas of the structure in total safety. The sconces are perfect to be placed on walls adjacent to stairs and corridors.
Flexible lighting in bedrooms: it is essential to offer your guests the possibility to adjust the light according to their needs. For this relaxing place, where guests usually dedicate themselves to rest after a long day of work / visits, a relaxing light cannot be missing. First of all, it is necessary to create an intimate and relaxing mood suitable for the evening hours and for carrying out the first daily activities (about that, the use of a dimmer is recommended).
Use different lamps:we must consider the fact that each of us perceives light in a different way, which is why it is necessary that the devices can be individually switched on and adjusted directly by the guests, to facilitate their use. We need to start with basic lighting with chandeliers or suspensions (if the ceiling is high) or ceiling lights (if the ceiling is low). Secondly, it is appropriate to place table lamps on desks and bedside tables and possibly also floor lamps next to the reading armchairs. Certainly, the installation of sconces next to paintings or art elements positioned along the walls should also be considered.
Do not neglect the bathroom lighting: being the place used for aesthetic care and daily personal hygiene, the bathroom needs both homogeneous and well-distributed light in the space and concentrated brightness in the "task" areas. For this reason, it is preferable to use suspensions associated with wall lamps for the mirror / washbasin area.
Common zone lighting: for very large spaces it is better to prefer one or more chandeliers with a great scenic impact, while for more intimate spaces it is better to prefer classy suspensions.
If you need help in choosing the lighting system for your business and would like to receive an initial free and personalized consultation, you can contact us or write to us on Whatsapp at +39 338 7078902