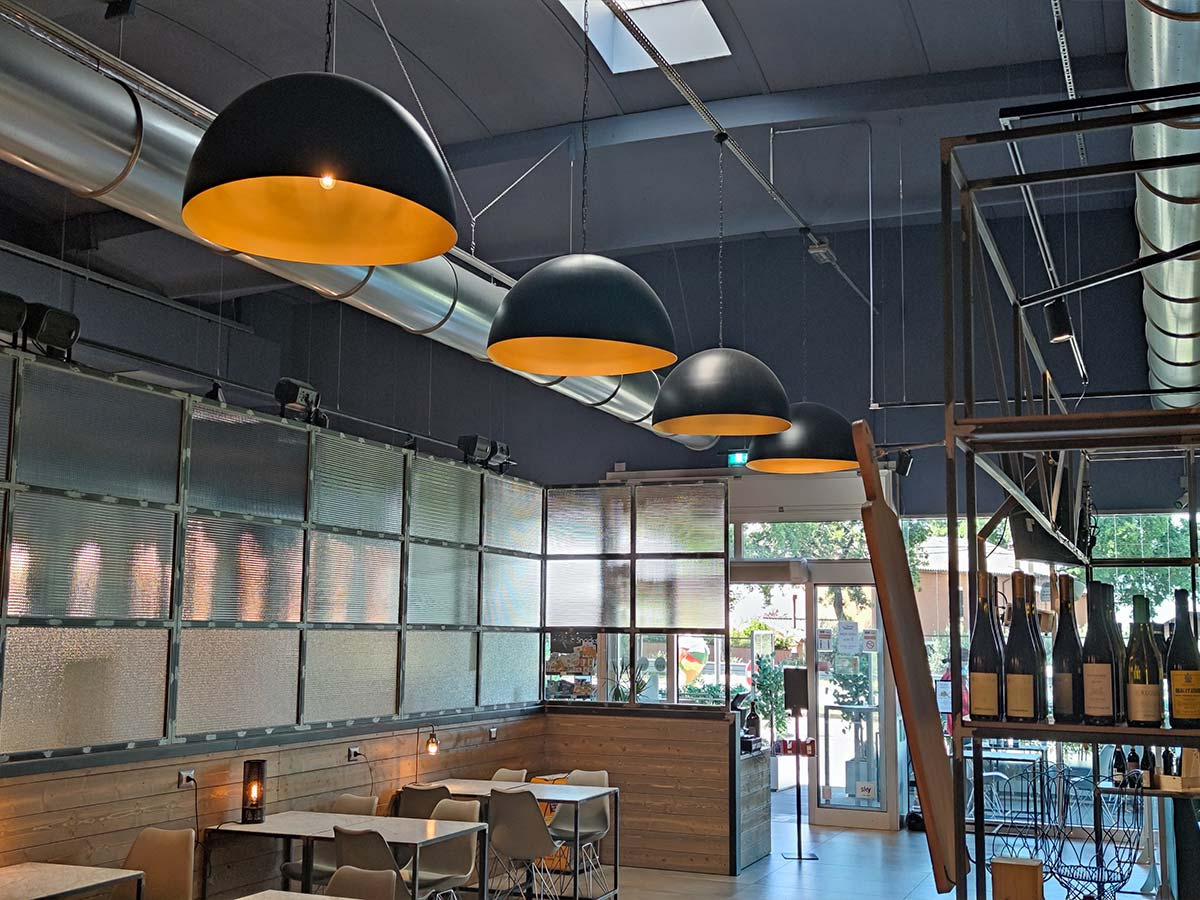 In "contract spaces", that is, all those environments open to the public that host commercial activities such as café, hotels, restaurants and so on, lighting plays a fundamental role.
This is an important factor in being able to welcome your guests and convey them emotions suitable for the place where they are.
Cristalleria Murano is specialized in contract supplies for shops, accommodation facilities, public and residential buildings that require a tailored lighting project.
Thanks to a highly qualified team and collaboration with specialized architecture and interior design studios, the company is able to offer ad hoc projects and solutions for every type of environment.
The Cristalleria Murano catalog has chandeliers, ceiling lights, suspensions, sconces and table lamps made of precious Murano glass both classic and modern, able to adapt to any style of furniture chosen for your bar.
The customized lamps reflect the needs and ideas of the customer, while remaining in line with the starting concept designed to enhance any context in order to obtain a final result that guarantees high luminous performance
The importance of lighting in a café
For a bar that wants to be successful, it is not enough to offer delicious cocktails and trendy furniture if the light is annoying or insufficient or not suitable for the chosen style.
Choosing the right lighting makes people feel at ease and allows them to have a much more enjoyable experience, helping them to find their way around easily in all environments at different times of the day.
Illuminating a room in an attractive and refined way is important to convey a dynamic and modern image of one's business.
For café, solutions that offer dynamic color control, interesting color rendering and total design freedom are particularly suitable.
Different lighting for different café
First of all, it is necessary to distinguish the type of bar to which reference is made: for each bar there is a different lighting.
If you have a place that tends to work during the day, you need to focus on lights that can liven up the environment, particularly affecting the mood of customers.
If, on the other hand, you manage an evening club, you need to focus on soft and subdued lights that can give the bar a touch of refinement and a relaxing atmosphere.
The same goes for the tables.
For a daytime café, if the main lighting is not enough, it will be necessary to integrate everything with sconces to be placed along the walls: it is important that the amount of light is the same for all the tables.
Sconces are a winning solution also because it is possible to choose between different models that can reflect the style of the local in order to also act as a piece of furniture.
In evening or night cafè, on the other hand, the best solution is to lower a small pendant lamp over each table, even installed very low if needed, to reproduce a soft and reserved atmosphere.
Contract café lighting: some valuable tips
There is no single way to choose lamps and light in general for your café, as lighting is related to the size and design of the space.
The ideal would be to create more environments within the same café, playing with the lighting: sconces and ceiling lights are more suitable for convivial areas, while pendant lamps are preferable in more romantic and reserved environments.
However, there are some tips to follow to make sure you are not wrong
Create focal points: lights can be used to guide customers, directing their attention to different focal points or areas;
Prevent the lamps from dazzling customers
Be careful with natural light sources: having a window with natural light is undoubtedly an advantage, however you must be careful not to place the lighting sources in full natural light.
Use warm lights to make customers feel more comfortable, especially during the winter
Use a dimmer: an easy way to give bar lighting versatility is to install a dimmer that can adjust the light intensity of the light source and thus change the atmosphere whenever you want
Enhance the counter: the counter of a café will certainly consist in part of display cases with their own lighting system to enhance the products on display. The lights on the counter must therefore have a "decorative" function a much appreciated idea is to position suspensions at different heights, in line with the design of the room.
If you need help in choosing the lighting system for your venue and would like to receive more information, you can contact us or write us on whatsapp at +39 3387078902 to receive free and personalized advice.